WHO:
Statutory city of Pardubice
WHAT:
New "smarter" parking machines
The city of Pardubice plans to replace all parking machines with new, "smarter" ones, in which it will be possible to pay by card and other contactless methods. The police officers and police officers no longer recognize that the parker has paid by the "paper" behind the windshield of the car, but by the license plate, which the parker enters into the machine when paying. The stands will be connected to the information system of the city police. The installation of smart vending machines is part of the wider smart parking system called Smart Parking, which is currently being built. So far, the planned number of vending machines is 84. Drivers will find them in places where they were used to, ie near existing old vending machines.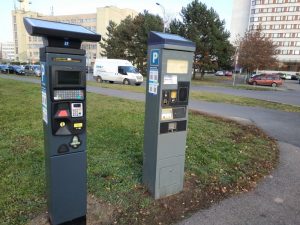 WHY:
The reason and goal of innovation is to increase parking comfort. This means making it easier to find parking spaces and the associated ease of traffic, especially in the city center. The new parking meters will offer drivers much greater convenience in terms of operation, user-friendliness of payments, reliability and other aspects. They are equipped with an information module that notifies the user and the operator, for example, of a defect, a full coin or a faulty payment procedure. In SMART vending machines, citizens can pay not only with contactless payment cards, but also with smart watches. Or via SMS and other mobile applications (MPLA, ParkDots, ParkSimply and Smart4City Parking). And still good old coins. From an energy point of view, the vending machines are self-sufficient because they are equipped with their own solar cells. From this point of view, a power failure is not possible, and therefore not even a situation where the machine would be out of operation without the operator (Transport Company of the City of Pardubice) knowing about it. Thanks to the new vending machines, drivers will not have to worry about running from vending machine to vending machine and searching, which is currently working. The pockets will not burden them with kilograms of coins. However, numismatists can be calm. As already mentioned, the possibility of paying with coins will remain in the new machines.
WHEN:
The pilot testing has already been completed, and in November 2021 the city will begin installing stands. The sharp start of the vending machines should take place by the end of the year. The old machines will be switched off in one day when all new machines are switched on at once.